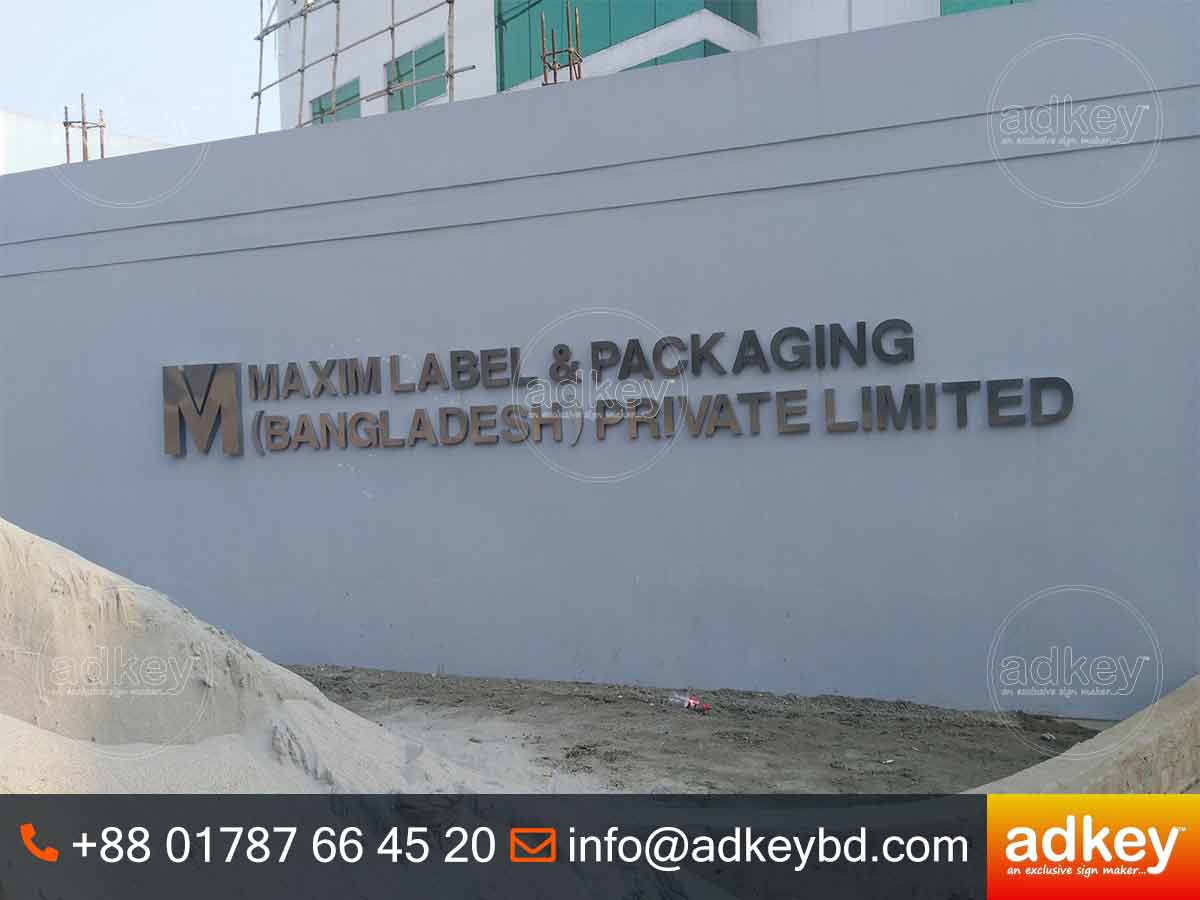 SS Letter with LED Outdoor Signage Project of Baridhara for Working Making by adkey advertising Limited.
© Project for #Maxim Label & Packaging Bangladesh Private Limited.
© a concern of #ZAHIRUL Group
© Project of Working Making by #adkey
01) Definitions Making of SS Letter with LED Signage Structure Details:
a) Front Side 3mm Acrylic Top Letter Red with White Color (Pakistani).
b) Font Side 25.4mm Bit SS & Ring Side 22gaz SS Sheet, SS Color (China).
c) Around Side 127mm Bit SS & Ring Side 22gaz SS Sheet, SS Color (China).
d) 8mm PVC Back Side Casing Partex (Bangladesh).
e) Best Quality Module LED Light Water Proof Red Color (China).
f) LED Power Supply Water Proof (China).
g) Letter Wiring Cable BRB (Bangladesh).
h) Goods carrying & transportation, fitting-fixing with necessary.
i) M/S 01" x 01" x 3mm Flat Bar Iron Angel Inside frame (BSRM).
j) Royal Bolt 10 no (China).
k) Blinds Rivets/Screw (Size: 450/1.5'') (China).
l) Goods carrying & transportation, fitting-fixing with necessary.
#Terms_and_Conditions:
1. #One_Year_Services with #Materials_Warranty.
#Sign_Board #LED_Light_Box #Backlit_Sign_Board #Shop_Sign (#NonLit_Board) #Acrylic_Top_Letter_Laser_Cutting_with_LED_Lighting #Profile_Box (#Lighting_Board) #Digital_Auto_Pana_flex_Reverse_Print #MS_Structure for #Neon_Signage #LED_Signage #LED_Display #Billboards #Acrylic_Top_Letter #SS_Top_Letter #LED_Lighting #Aluminum_Profile_Box #ACP_Boarding #Advertising #Branding #Indoor_Signage and #Outdoor_Signage.
#LED_Sign_Board #Neon_Sign_Board #LED_Display_Board #ACP_Boarding #Acrylic_Top_Letter #SS_Top_Letter #Letter #Aluminum_Profile_Box #Backlit_Sign_Board #Billboards #LED_Light #Neon_Light #Shop_Sign_Board #Lighting_Sign_Board #Tube_Light #Neon_Signage #Neon_Lighting_Sign_Board #Light #Neon #Board #Sign #Acrylic #Laser_Cutting_Sign_Board #Box_Type #MS_Metal_Letter #Outdoor_LED_Video_Walls #ED_Outdoor_Video_Wall #P10_RGB_Outdoor_LED_Display #Outdoor_LED_Display #Advertising_Outdoor_LED_Display #Indoor_LED_Video_Walls #Outdoor_LED_Display #Vehicle_LED_Display #Outdoor_LED_Modules #LED_Video_Processor #LED_Rental_Service #Transparent_LED_Glass_Display #Indoor_Led_Video_Wall #Outdoor_Led_Video_Wall #Curve_Indoor_LED #Mobile_Vans_Advertisement_Services #Advertisement_Services #Display_Standee #P1_LED_Display_Board #P2_LED_Display_Board #P3_LED_Display_Board #P4_LED_Display_Board #P5_LED_Display_Board #P6_LED_Display_Board #P7_LED_Display_Board #P8_LED_Display_Board #P9_LED_Display_Board #P10_LED_Display_Board #LED_Sign #LED_Moving_Sign #LED_Display_Board #Programmable_LED_Sign #Outdoor_LED_Displays #Indoor_LED_Displays #Outdoor_LED_Sign #Indoor_LED_Sign #Scrolling_LED_Signs #Stadium_LED_Displays #Sports_LED_Display #Production_Display_Boards #Score_Boards #Token_Display_System #Currency_Rate_Display_Board #Up_Down_Counter #Jewelry_Rate_Display_Boards #Digital_LED_Clocks #Token_Displays #Number_Displays #Bank_Interest_Rate_Display #Foreign_Exchange_Rate_Display #Project_Countdown_Clock #WELCOME_Sign #OPEN_Sign #CLOSED_Sign #Garments_Target_Board_Bangladesh #Garments_Production_Board_Bangladesh #LED_Industrial_Production_Data_Displays #LED_Andon_Boards. #LED_Pollution_Data_Displays #LED_Tickers #LED_Video_Wall #Indoor_Sign #Outdoor_Signage #Advertising #Branding #Service #all #over #Bangladesh.
GOVERNMENT PROJECT:
© Bangladesh Bank
© National Eye Care
© Community Vision Center
© Bangladesh Police
© Dhaka Metropolitan Police
© Biman Bangladesh Airlines Limited
© Dhaka Shishu (Children) Hospital
© Dhaka Medical College and Hospital
© Mohammadpur Model School & College
© Bangladesh Rural Electrification Board
© Bangladesh Fire Service & Civil Defence
© National Institute of Ophthalmology & Hospital
© Bangladesh Civil Service Administration Academy
© Titas Gas Transmission and Distribution Company
and more.
►Contact us for more information:
Office cell: 8801787664520-25
Visit our Sent:
e-mail: adkeybd@gmail.com
e-mail: info@adkeybd.com
website: www.adkeybd.com