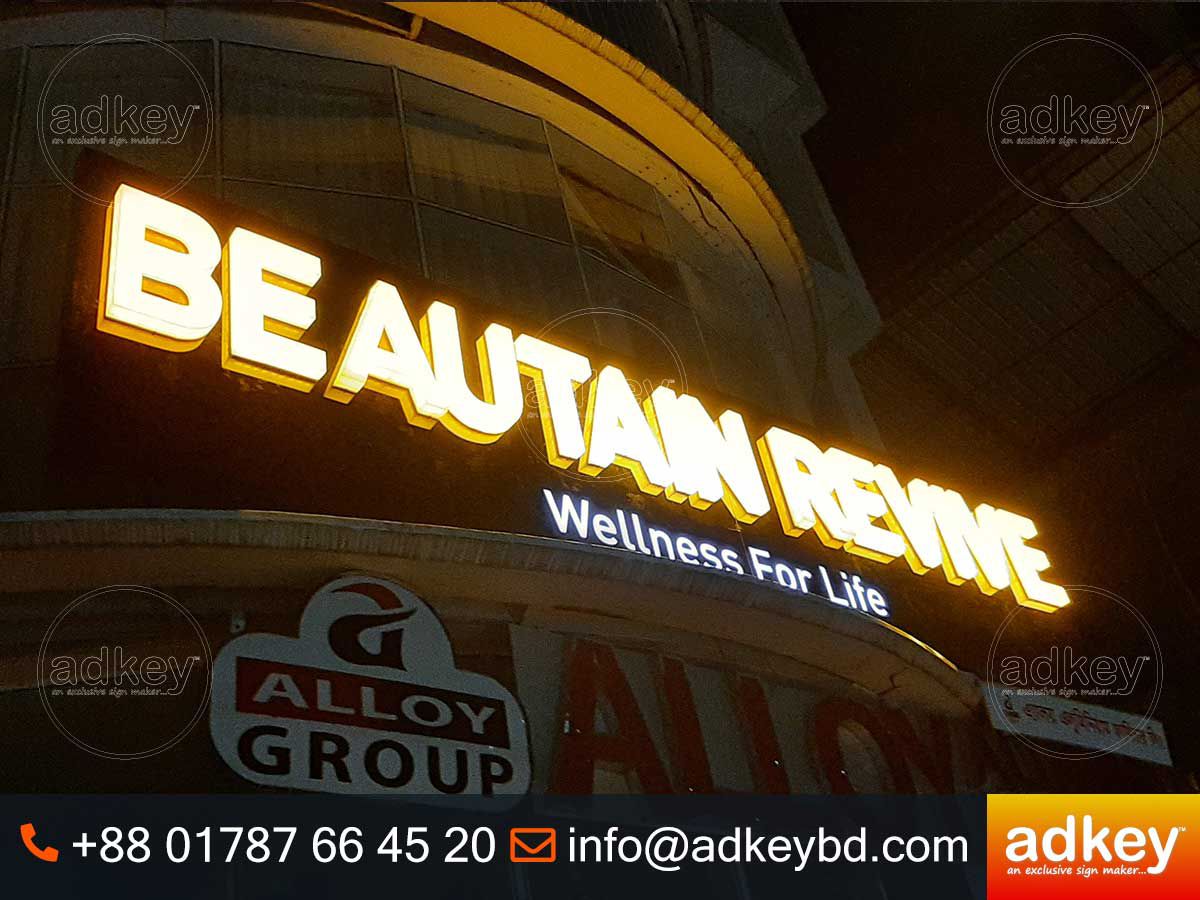 ACP Board Branding and Acrylic Top Letter Laser Cutting with LED Lighting and MS Structure for Advertising and Branding with Indoor and Outdoor Signage
ACP Board with Acrylic Top Letter with LED Lighting with Advertising and Branding with Indoor and Outdoor Signage
© Project for #Beautain_Revive_Limited
© Project of #Uttara_Branch
© Project of Working Making by #adkey
01) Definitions Making of Acrylic Top Letter with LED Lighting Structure Details Size:
a) Front Side 3mm Acrylic Top Letter Laser Cutting Yellow and White Color (PPI and Star -Pakistani).
b) Around Side 3mm Acrylic Laser Cutting Yellow and White Color (PPI and Star -Pakistani).
c) 8mm PVC Back Side Casing (Pertex).
d) Best Quality LED Module Light Water Proof Yellow and White Color (China).
e) LED Power Supply Water Proof (China).
f) Letter Wiring Cable BRB (BD).
g) Super Glue (China).
h) Cap Screw (China).
i) Blinds Rivets (Size 450) (China).
02) Definitions Making of ACP Board Branding Structure Details Size:
a) Front Side 3mm ACP Board Cutting with Around side in ACP Gray Color (ACP-Bafoni).
b) M/S 1" x 1" x 18 Gauge GIP Hollow Box inside Frame ACP.
c) Super Glue (China).
d) Cap Screw (China).
e) Blinds Rivets (Size 450) (China).
f) Welded System Fitting Structure All.
g) Installation Iron Angel Inside frame and Both Side Color Berger Paints.
03) Definitions Making of Carrying and fitting-fixing with Clam Structure Details Size:
a) 1.5" x 1.5" x 3mm Iron Angel Outside Clam (BSRM).
b) Royal Bolt 10 no (China).
c) Welded System Fitting Structure All.
d) Installation Iron Angel Outside frame and Any Side Color Berger Paints.
e) Goods carrying & transportation, fitting-fixing with necessary.
© Terms and Conditions:
One Year Service with Material's Warranty.
A LED display is a flat panel display that uses an array of light-emitting diodes as pixels for a video display. Their brightness allows them to be used outdoors where they are visible in the sun for store signs and billboards.
#LED_Sign_Board #Neon_Sign_Board #LED_Display_Board #ACP_Boarding #Acrylic_Top_Letter #SS_Top_Letter #Letter #Aluminum_Profile_Box #Backlit_Sign_Board #Billboards #LED_Light #Neon_Light #Shop_Sign_Board #Lighting_Sign_Board #Tube_Light #Neon_Signage #Neon_Lighting_Sign_Board #Light #Neon #Board #Sign #Acrylic #Laser_Cutting_Sign_Board #Box_Type #MS_Metal_Letter #Outdoor_LED_Video_Walls #ED_Outdoor_Video_Wall #P10_RGB_Outdoor_LED_Display #Outdoor_LED_Display #Advertising_Outdoor_LED_Display #Indoor_LED_Video_Walls #Outdoor_LED_Display #Vehicle_LED_Display #Outdoor_LED_Modules #LED_Video_Processor #LED_Rental_Service #Transparent_LED_Glass_Display #Indoor_Led_Video_Wall #Outdoor_Led_Video_Wall #Curve_Indoor_LED #Mobile_Vans_Advertisement_Services #Advertisement_Services #Display_Standee #P1_LED_Display_Board #P2_LED_Display_Board #P3_LED_Display_Board #P4_LED_Display_Board #P5_LED_Display_Board #P6_LED_Display_Board #P7_LED_Display_Board #P8_LED_Display_Board #P9_LED_Display_Board #P10_LED_Display_Board #LED_Sign #LED_Moving_Sign #LED_Display_Board #Programmable_LED_Sign #Outdoor_LED_Displays #Indoor_LED_Displays #Outdoor_LED_Sign #Indoor_LED_Sign #Scrolling_LED_Signs #Stadium_LED_Displays #Sports_LED_Display #Production_Display_Boards #Score_Boards #Token_Display_System #Currency_Rate_Display_Board #Up_Down_Counter #Jewelry_Rate_Display_Boards #Digital_LED_Clocks #Token_Displays #Number_Displays #Bank_Interest_Rate_Display #Foreign_Exchange_Rate_Display #Project_Countdown_Clock #WELCOME_Sign #OPEN_Sign #CLOSED_Sign #Garments_Target_Board_Bangladesh #Garments_Production_Board_Bangladesh #LED_Industrial_Production_Data_Displays #LED_Andon_Boards. #LED_Pollution_Data_Displays #LED_Tickers #LED_Video_Wall #Indoor_Sign #Outdoor_Signage #Advertising #Branding #Service #all #over #Bangladesh.
►Contact us for more information:
Office cell: 8801787664520-25
Visit our Sent:
e-mail: adkeybd@gmail.com
e-mail: info@adkeybd.com